TILS 2018: Epistar's Relentless Effort to Protect Its LED Filament Patents
标题:TILS 2018:Epistar不懈努力保护LED灯丝专利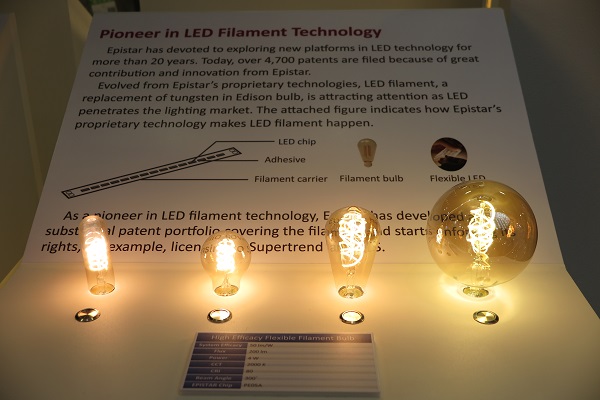 Epistar's LED filament bulbs showcased at TILS 2018 (Image: ledcax)
In March, ledcax witnessed a Chinese lighting company being caught red-handed for showcasing patent-infringing LED filament bulbs at Light + Building 2018. Slightly later than that, we also learnt Epistar has approached and initiated talks with a few companies for IP collaborations at that fair. At TILS 2018 in April, ledcax interviewed Epistar and got more details about the matter.
In wake of policies to prohibit the use of incandescent bulbs and traditional mercury-containing lighting fixtures by 2020, the growth of LED filament has been escalating. Apart from the steadily-growing demand from Europe, the LED filament market in the US has even experienced a significant demand surge over the past two years. The manufacturing of LED filament bulbs also increased accordingly at the supply side. They now can be seen almost everywhere, at not only wholesaler markets but also small- and mid-sized retailers. 
However, intellectual properties are yet to be fully respected while lighting manufacturers are producing LED filament bulbs, resulting in recurring imitations of both external and internal structures. Due to the fact that some aspects of its patents have been either misunderstood or neglected, Epistar approached at Light + Building 2018 several companies from China, Europe, and the States to clarify some concepts regarding its patents in hope to raise their awareness towards its IP value, according to the company.
Most of the feedback gathered were positive, including a few expressing interest in collaboration with Epistar.
Epistar has currently filed four patent lawsuits in the US, with one settled and three underway. Epistar added that it has only licensed its patents to QLS, Supertrend and Kaistar. The company stressed that any news with license recipients other than those three companies is false information and should not be allowed to be circulated. 
Read also:
Light + Building 2018: LED Filament Patent Infringement Caught Red-Handed
Epistar Takes Legal Actions to Protect Its LED Filament Patents
Epistar的LED灯丝展示在TILS 2018(图像:莱德内)3月,里德内尔目睹了一家中国公司被当场抓获,以展示专利侵权LED灯丝灯泡在轻+建筑2018。.稍晚些时候,我们还了解到,Epistar已与几家公司在该展会上进行了IP合作。.在四月的TILS 2018中,莱德内姆采访了Epistar,并得到了有关此事的更多细节。.在2020禁止使用白炽灯泡和传统含汞灯具的政策之后,LED灯丝的增长在不断升级。.除了欧洲不断增长的需求外,美国LED灯丝市场在过去两年中也经历了巨大的需求激增。.LED灯丝灯泡的造在供应方面也相应增加。.它们现在几乎无处不在,不仅在批发商市场,而且在中小型零售商。.然而,知识产权尚未得到充分尊重,而造商生产LED灯丝灯泡,导致反模仿外部和内部结构。.由于其专利的一些方面被误解或忽视,Epistar走近在+建筑2018多家公司从中国,欧洲,和States澄清一些概念对于希望提高他们的意识对其知识产权价值的专利协议向公司介绍.大部分的反馈是积极的,包括一些表达兴趣与Epistar合作。.Epistar目前在美国申请了四项专利诉讼,其中一项和解,三项正在进行中。.Epistar补充说,它只向QLS、超趋势和Kaistar授权专利。.该公司强调,除了三家公司以外,任何持牌人的任何消息都是虚假信息,不应被允许流通。.阅读也:轻+建筑2018:LED灯丝专利侵权抓获红衫主教采取法律行动,以保护其LED灯丝专利来自百度翻译